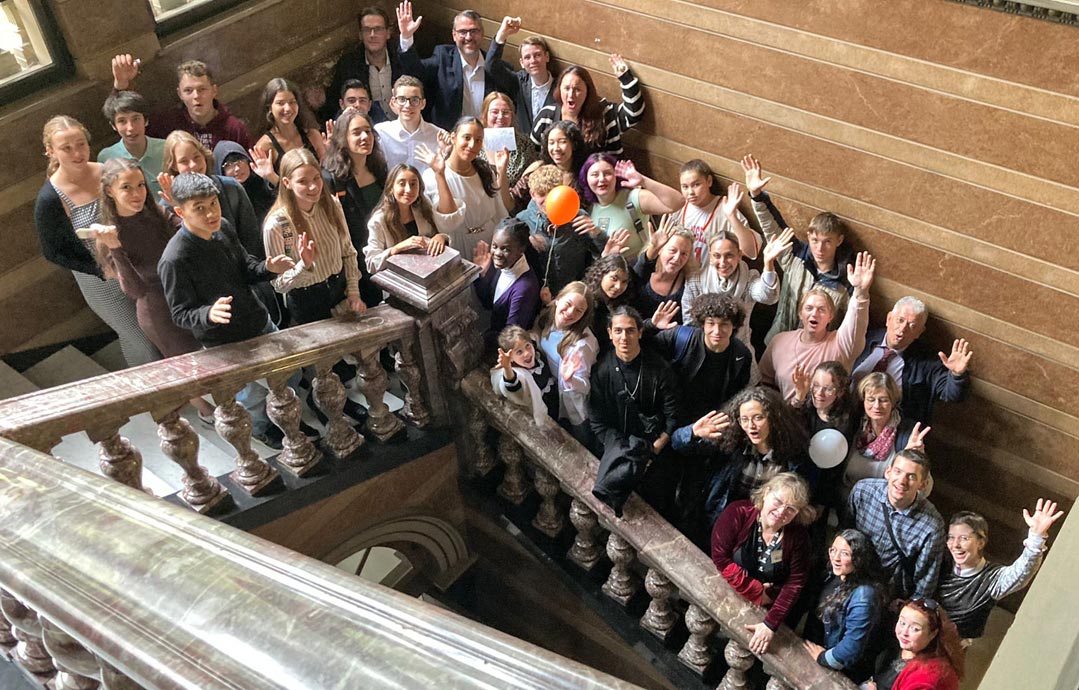 "Experiencing friendship- out into the world and into an international adventure"
The youth encounter from 23rd September to 03rd October took place under this motto.
In cooperation with the renowned music and art school "Juphi" and the "Team offene Jugendarbeit", teenagers from three of Neustadt's twin cities came together to produce three different songs and music videos. The teens between 14-18 years and their group leaders came from Mersin (Turkey) , Macon (France) and Wernigerode (Germany) to connect and make friends with people from all around the world. "Team Neustadt" included five KRG students from grade nine.
On Friday, 23rd September the attendees got picked up from the train station/airport and spent the night in a youth hostel. The morning after their arrival we all met for the first time, chatted, played cooperation games and had a relaxed brunch at the Juphi. After breakfast, little groups gave presentations about their hometown. The evening ended with a delicious barbecue.
On the second day we played a warming-up game in the morning and got to choose which music group we would be working in for the next ten days. We had three different genres to choose from: The experimental group (rock, metal), the fun group (pop, rock and roll) and the emotional group.
Every group had their own professional director, camera operator and music producer and we got down to work. We started off by brainstorming with our team leader and wrote down the first lyrics of our very own song.
We spent the next days working very hard on recording the song and shooting the music video as well as staging the live show. We shot our music videos in lots of different places like downtown Neustadt, in the vineyards and in Juphi´s recording studio. That way we came together as humans, our different talents came together as well and resulted in a great product.
Between the challenging workdays, we got to enjoy a sightseeing tour in Neustadt, a day trip with town rallye in Heidelberg as well as an afternoon in Speyer´s night sports hall.
The hard work paid off when we got to watch our amazing final results on the big screen at the premiere in the Villa Böhm for the first time. Later that day we all drove back to Juphi, had a final rehearsal, and dressed up for our big night. Nervosity was in the air as we waited for our turn to perform on the big stage. We presented our live show to Neustadt and Wernigerode´s mayors and our parents and friends in Juphi´s concert hall.
The project ended with a big after-party and a concert from the Juphi band "No rest for spirits". We all danced and celebrated one last time before we had to say our goodbyes. It was very emotional because we had spent almost twelve hours everyday together and became close friends during the exchange. It was sad to part, but we all knew that we would go home with unforgettable memories and are lucky that we got to participate in this once-in-a-lifetime experience.
Miray, 9b